Hill Valley in 2015 | Back to the Future | Back to the Future 3 | Back to the Future...The Ride | Back to the Future 4 | Back to the Future 5 | Blast from the Past | BTTF Trading Cards |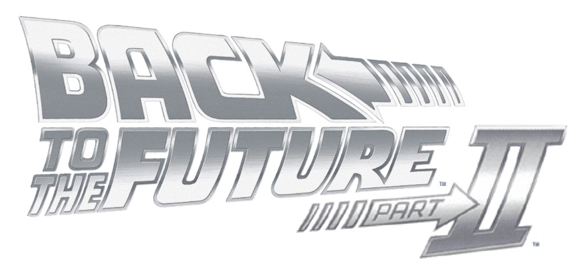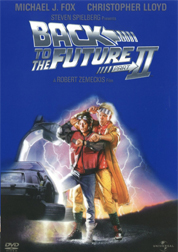 Marty and Doc have barely recovered from their first time-travelling adventure when they launch themselves once more into the space-time continuum. But this time around, their attempt to fine tune the future in the year 2015 creates an outlandish, alternate 1985 Hill Valley where Biff Tannen is rich powerful and...Marty's Dad! Now their only cahnce to fix the present is by going back to 1955 all over again. But can Doc and Marty patch up the past without igniting a universe shredding time-paradox? Power up the Trusty DeLorean and find out - as film-makes Steven Speilberg and Robert Zemeckis rev up another round of woundrously inventive, comically supercharged action in Back to the Future 2.

DVD Released on December 17, 2003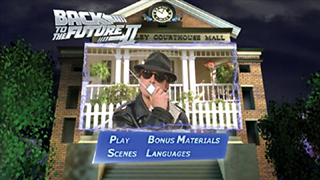 The Making of Back to the Future Part 2
Go behind-the-scenes of the making of Back to the Future Part 2 in a featurette created in 1989. Featuring Michael J. Fox, Writer/Driector Robert Zemeckis, and Writer/Producer Bob Gale.
Making the Trilogy: Chapter 2
A unique look back at the making of the film with Michael J. Fox, Robert Zemeckis and Bob Gale.
Writer/Producer Bob Gale Duscusses The Filmmaking Process
Production Design Storyboarding Designing the Delorean Time Travel
Ouattakes
Hilarious flubs, bloopers and antics from the set.
Candid Q&A With Director Robert Zemeckis and Producer Bob Gale.
Feature Commentary With Producers Bob Gale and Neil Canton
Did You Know That? Universal Animated Anecdotes
Watch the feature film and see notes on over 150 fascinating facts, trivia, and mistakes
Deleted Scenes with Commentary By Writer/Producer Bob Gale
Hoverboard Test
Witness the original "flying skateboard" tests on the Universal Backlot and in a grassy field in Los Angeles.
Evolution of Visual Effects Shots
Industrial Light and Magic shows how the films' special effects were developed
Production Archives
Interactive environment enables viewing of hundreds of production photographs, original storyboards,conceptual art and props used in the film, including:
Marty McFly Photo Album
Behind-the-scenes Photographs
Futuristic Designs
Vehicles of the Future

Huey Lewis & The News "Power of Love" Music Video
Theatrical Trailer
DVD-ROM Features With Total Axcess Including The Original Script
Exclusive behind-the-scenes details, interview excerpts and more